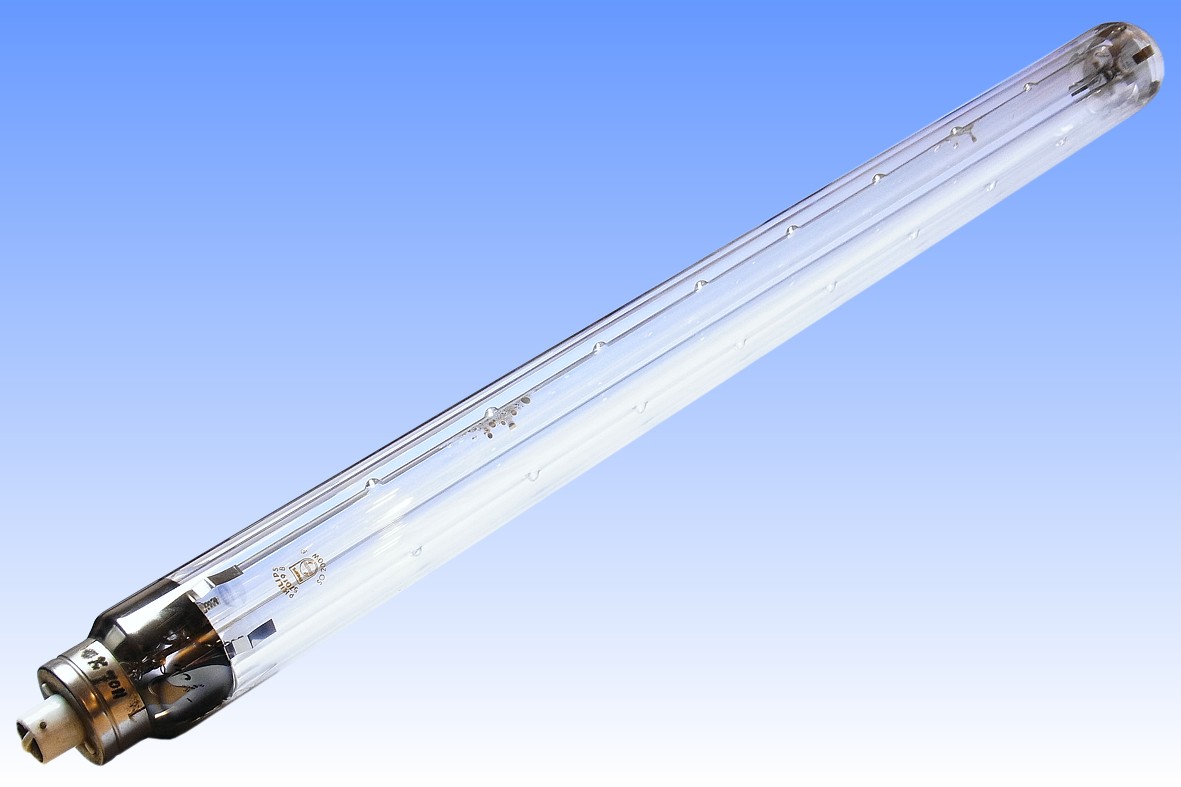 Following the invention of the Osram-GEC SOI/H Integral sodium lamp in 1955, and its improvement a year later with the addition of a heat-reflecting glass sleeve over each limb of the discharge tube to further improve thermal insulation, Philips began to lose its former lead in low pressure sodium lamps. It's first generation integral lamp, without heat-reflecting sleeve, was only unveiled in 1958.

It was not until the 1960 introduction of the lamp featured on this page that Philips caught up and could once again compete in the sodium market. The design is somewhat different than the GEC equivalents. Instead of applying two small sleeves around each limb of the discharge tube, Philips opted for a single large diameter sleeve - perhaps to avoid infringement of the GEC patent. The thermal insulation was somewhat less effective than the GEC design and as a result Philips was unable to increase its discharge tube diameter by the same extent. The consequence of this is a higher discharge current density which limited the efficacy gain.

However, the narrow discharge tube did permit Philips to re-introduce the special construction of its earlier SO/H dimpled lamp. Owing to the better sodium distribution over life, and the fact that Philips had a better glass than GEC which did not stain so rapidly, the average luminous flux over life was actually better than the GEC lamps. The company also demonstrated its lead by introducing a new 200-watt rating.

The Philips SOI range was relatively short-lived, with the 60W, 85W, 140W and 200-watt ratings being superseded by SOX in 1964. The 45W was not made obsolete until 1966, owing to there being no SOX replacement for that rating.
Manufacturer:
Philips Gloeilampenfabrieken
Lamp Power:
200 Watts
Lamp Current:
0.9 Amps
0.81A Starting Current
Lamp Voltage:
260 Volts
450V ignition
Cap Type:
BY22d
Porcelain Insulator
Bulb Type:
T-65
T-20½ in eighths/inch
Bulb Finish:
Clear
Soda-lime glass
Electrodes:
CCC-4 Beehive
BCT emitter
Arc Length:
Atmosphere:
Na | 99% Ne, 1% Ar
Outer: Hard Vacuum
Luminous Flux:
21,500 lm (@ 100 hrs)
20,000 lm (mean to 4000hrs)
Luminous Efficacy:
107.5 lm/W (@ 100 hrs)
Colour Temperature & CRI:
CCT: 1700K
CRI: Ra -44
Chromaticity Co-ordinates:
CCx: 0.574
CCy: 0.425
Rated Lifetime:
6,000 hours
50% survival
Warm-up & Re-strike time:
20 minutes
Instantaneous
Burning Position:
Horizontal ± 20°
Overall Length:
775 mm
30½ inches
Light Centre Length:
420 mm
16½ inches
Factory:
Eindhoven
Netherlands
Date of Manufacture:
June 1960
Original / Present Value:
£6 0s 0d (1964)
£108.60 (2014)